I have this Applescript that uses Audio MIDI Setup to connect through MIDI to other computers.
Right now the script works for the most part, it connects to the computer, but at the moment I have it connecting to every computer that is populated (up to three, these are auto populated by bonjour). The problem is that list of computers is never in the same order, it gets populated differently every time.
What I want to do is move down the list like the Applescript is already doing, but only click the "connect" button if an item in the list has the correct words in it.
I have included an image of the window. The area under "Directory" is where the list gets populated with multiple computers.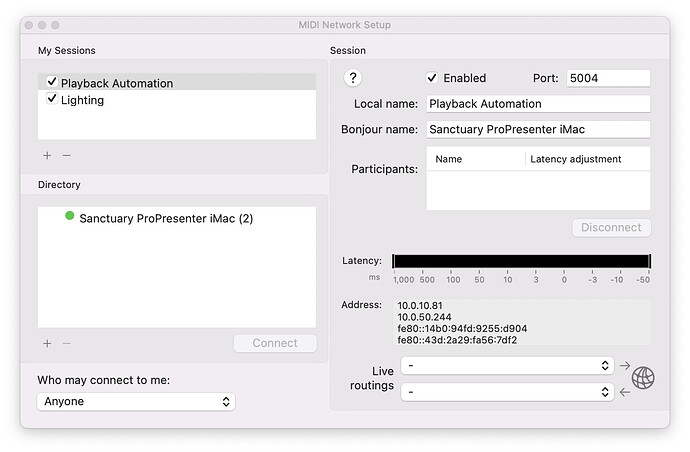 display dialog ("MIDI Starting Up" & return & return & "Please do not touch mouse or keyboard till startup confirmation.") buttons "" giving up after 8
			delay 1
			showMIDINetworkSetup()
			delay 1
			activateTheMidiSession(2)
			patchTheMidiSession(2, 1)
			patchTheMidiSession(2, 2)
			patchTheMidiSession(2, 3)

			delay 3

			tell application "System Events"
if exists window "Midi Network Setup" of process "Audio MIDI Setup" then
	keystroke "w" using command down
end if
if exists window "MIDI Studio" of process "Audio MIDI Setup" then
	keystroke "w" using command down
end if
if exists window "Audio Devices" of process "Audio MIDI Setup" then
	keystroke "w" using command down
end if
			end tell

			delay 1

			activate
			display dialog ("MIDI succesfully started, you can now close this window." & return & return & "DO NOT QUIT AUDIO MIDI SETUP APP") default button "OK"

			on activateTheMidiSession(2)
activate application "Audio MIDI Setup"
tell application "System Events"
	tell process "Audio MIDI Setup"
		try
			
			set theCheckbox to checkbox 1 of UI element 1 of row 2 of table 1 of scroll area 1 of group 1 of window "MIDI Network Setup"
			tell theCheckbox
				set checkboxStatus to value of theCheckbox as boolean
				if checkboxStatus is false then click theCheckbox
			end tell
		end try
	end tell
end tell
			end activateTheMidiSession


			on patchTheMidiSession(2, theResponderNumber)
activate application "Audio MIDI Setup"
tell application "System Events"
	tell process "Audio MIDI Setup"
		try
			select row 2 of table 1 of scroll area 1 of group 1 of window "MIDI Network Setup"
			select row theResponderNumber of table 1 of scroll area 1 of group 3 of window "MIDI Network Setup"
			click button "Connect" of group 3 of window "MIDI Network Setup"
			
		end try
	end tell
end tell
			end patchTheMidiSession

			on showMIDINetworkSetup()
try
	activate application "Audio MIDI Setup"
	tell application "System Events"
		tell process "Audio MIDI Setup"
			try
				click menu item "Show MIDI Studio" of menu 1 of menu bar item "Window" of menu bar 1
			end try
			delay 3
			try
				click menu item "Open MIDI Network Setup…" of menu 1 of menu bar item "MIDI Studio" of menu bar 1
			end try
		end tell
	end tell
on error
	return false
end try
			end showMIDINetworkSetup