Hi,
I have a Folder Action Script attached to a number of folders which detects the name of the folder (different manual lens names and focal lengths) and appends this information to the EXIF metadata of images dropped into the folders. Up to and including Monterey, it worked fine.
I haven't used the script for some time and have since updated to Ventura.
Now when I run the script, I get an error.
The broken part of the script, without any of the metadata stuff, is:
on adding folder items to this_folder after receiving added_items
	try
tell application "Finder" to set holding_folder to (name of folder this_folder)
on error the_error
display dialog the_error
end adding folder items to

And the error, when I drag an item into the attached folder, is: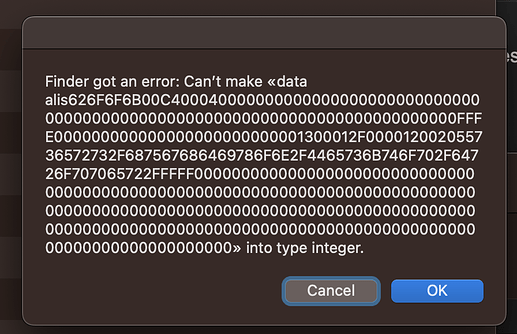 I've tried various forms of coercion (POSIX path of this_folder, this_folder as alias…) to no avail.
Is there away of turning «data alis626…» into useable information?
Thanks for any insights!