I'm a novice scripter trying to iterate a button group to find one that has button inside that is true.
My goals are -
Locate a specific nested group whose button 1 has a true value.
Click button 4 inside this group.
I've tried to adapt an example I saw on the forum, but after several hours and some success, I am stuck. Can anyone pls help? I'll document as best I can.
CODE
tell application "System Events"
	tell process "iZotope RX 10"
		set frontmost to true
		tell window 1
			tell group 2
				set markerList to (description of every button of every UI element of every group)
				repeat with markerGroup from 1 to (count markerList)
					set candidateGroup to (a reference to markerGroup)
					if (value of button 1 of candidateGroup is true) then set correctGroup to candidateGroup
				end repeat
				click button 1 of candidateGroup
				return
			end tell
		end tell
	end tell
end tell

Note: The Window is "window 1", as RX promotes this floating window to "window 1" when it opens.
UI BROWSER SCREENSHOT AND BUTTON MAP
A screenshot from UI Browser pointing to (in this case) the desired button: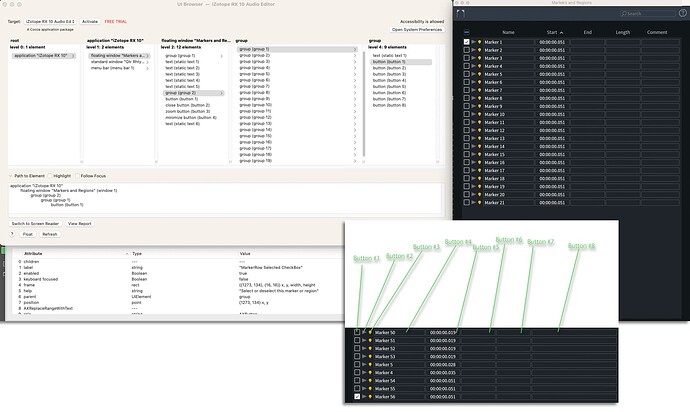 HIERARCHY LEVELS
window 1: The floating window I'm targeting. These elements are static.
group 2: The group of all markers. The number of them is dynamic (as the user can create and delete markers).
The individual UI elements for a specific marker. These elements are static.
I hope this enough information, and thank you for any help possible.
Bill